Seriously, who the fuck is Charlie? And why the fuck am I being asked to be him?! I think I'm offended. You want me to say je suis Charlie.. ça me fait chier!

The journalists at Charlie Hebdo - cartoonists, artists, media, idealists, provocateurs, obnoxious, anarchists and say what, in some ways - extremists? As the publication is now being celebrated as heroic, and the slain journalists as martyrs on behalf of the apparent freedom of expression, the whole world rallies behind them in solidarity. One thing is factually clear in everyone's mind:
"Cartoonists at Charlie Hebdo published some piece of art, however beautiful or enraging, and that they were brutally murdered for precisely that."
Before I actually write about it, I should clarify one thing - there is no speech so hateful, no piece of art so offensive, no tweet so provocative and no music so enraging that it somehow would legitimize or justify the use of violence against them. And it also stands the other way around. Fear of violence also, should not determine the moderation of art and aesthetic human endeavor. People - human beings - lost their lives, and before we scramble to brand them as heroes or martyrs or artists or provocateurs, the act itself should be condemned.
It raises certain questions regarding the socially accepted standards of expressing one's thoughts publicly. The first thing that I now realize is that however we promote 'freedom of speech' or 'freedom of expression', for all practical purposes, we're actually unsure of where we stand ourselves. In solidarity to those who lost their lives at Charlie Hebdo, we launched the hash-tag protest #JeSuisCharlie or #IAmCharlie. But are we, really? Do we really have to become them to convey our solidarity? Do we really have to conform to those standards? Were we 'them' before this whole incident happened or are we just being fair-weather friends? And lastly, even though we're shaken to the core, are we really Charlie Hebdo, ideologically?
#JeSuisCharlie Tweets
I always cringe at the various modern ways our society chooses to protest an incident in this lazy, risk-free, no-frills age of social media. The
#JeSuisCharlie
protest campaign wants us to
'be'
Charlie to conform to an accepted form of protest. So much so that one such piece in the
New Yorker asks us all "to try to be Charlie, not just today but every day"
. Why? The self-appointed authority on freedom of speech has but set us a standard on how we should and ought to react.
Ego Charlie, ergo sum,
is that it then? René Descartes just jumped off a cliff, George!

The Daily Caller now has published a list

of which media houses have chosen not to conform to the benchmark of protest that has been setup with respect to this incident. And finally, in other news, Rupert Murdoch wants Muslims all around the world to protest these attacks. It's like it's his word against them. He holds them responsible for the attacks if they do not actively protest. So you moderate someone's way of expression, to justify freedom of expression.
Wow.
Maybe most Moslems peaceful, but until they recognize and destroy their growing jihadist cancer they must be held responsible.
And only today do I come home to find the
Fox news
turned on and the headlines runs on the ticker tape
'White House not serious about fighting terrorism'
. How they reached that conclusion I don't get. The US ambassador to France was of course present in the rally, and the president himself did talk to his French counterpart, gave a public statement (and perhaps OK-ed a couple more drone attacks halfway around the world). But my point is, that while we all are allowed the freedom of expression, how we express ourselves to a socially sensitive situation is not quite bereft of totalitarian ridicule, fascist scrutiny, critical analysis and harsh judgments.
Gentlemen, why such double standards?
I don't think to 'be someone' should be but the golden standard of protest all over the world. Because let's face it: we don't want to. If we reverse back the time, would you rather be in place of those who died in the deadly attack? If you say yes, you're kidding yourself. You don't. Nobody does. And even the people who died shouldn't have been there. But they were, and they died for it, and no one can morally claim their self-hood because they don't know what it was like to die like that. To suffer for something they stood for. To undergo what they underwent. It would be quite arrogant of us if we even think on those lines and thus, try to justify our stand.
And finally, before protesting, we should think upon the accuracy that the phrase #JeSuisCharlie claims, because most of us are admittedly not Charlie Hebdo. You might even want to be, because isn't it cool to stick a finger in the eye of authority? But ideologically, most of us are NOT Charlie. We don't always engage in the sort of provocative ridicule and offensive humor, disguised in the form of satire, that the publication specializes in, do we?
I, for one, do not mourn the death of the kind of work Charlie Hebdo published. I mourn the loss of human life and feel rather heartbroken to see how an idea was attacked with guns and bullets and bloodshed. Because when it comes to "journalism", Charlie Hebdo were perhaps not the best example of the lot. To compare them with others from the genre of satirical journalism, would be unfair to the likes of

The Onion
,
Mad

magazine to a certain extent and also perhaps to something like the
FSU Eggplant
.
I like how satirical newspapers like the Onion publish their stories to put forth an opinion in the guise of something twisted, sarcastic, (but) subtle and certainly having some degree of cleverness. While it is fun to stick it in the eye of the authority, I don't think there's any merit in just managing to piss people off. That's a similar problem I have with Trey Parker's South Park as well, and that's why I would rather go for one of the early intelligent episodes of The Simpsons instead of watching cartoons trying just to be offensively funny. One of the glaring example of intelligent, sarcastic and satirical humor is Dr. Gregory House of House M.D. - he's funny, he bites, but above all, he has that charm that makes you fall in love with his character.
If you pan out extremism on a long line, the median of which is neutrality and the ends are polar opposites, then Charlie Hebdo lies at the exact opposite side of the extremism that they're trying to critique. That also makes them extremists, doesn't it? The opposite kind. Now although I established that relationship between the two forms of extremism, I must admit it would be wrong to assume the long straight line on comparable platforms. Surely, one uses art and the other practices physical violence to further their agenda - and thus evidently, they're not made up of the same fiber. While response to violence can be expressed in the form of art, the response to an art form can never be violence. It just can't - because that doesn't deem acceptance in our social, cultural and moral framework. And it's not all chaos yet!
Charlie Hebdo are 'equal-opportunity offenders' (I read the term somewhere, and it totally struck a chord with my thinking). I think most of their humor was juvenile. Almost akin to what we'll find in a clever newspaper on campus ridden with crass college humor. It's lazy and cheap, and that is just a way to be running away from responsibility or any kind of accountability because they do not fall within the moral worldview that we apparently live in. And if you ask why, I guess the only perfect way to answer to that query would be that it is because they're French. That's their way of doing things - nonconformist in a very French way. How typical of them.
But the so-called satirical newspaper did not ask to be shot. Nor that they deserve a response of that kind. They were perhaps only looking for a reaction. Their constant poking and incessant provocation was always a way to look out for a public response. A very different kind, one that did not attract such morbid violence. It's the kind that a teenage kid does to gain the attention of the girl he has a crush on. Stupid, foolish things. But that never justifies them getting beat up by the girl's father.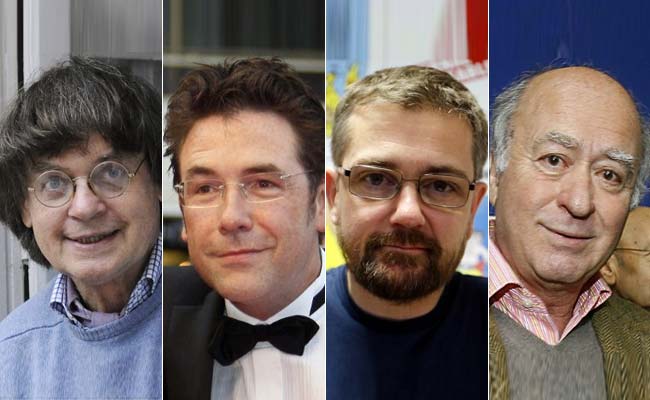 This whole scenario is vaguely reminiscent of the recent Sony hack and The Interview conundrum. Neither of the two justified or legitimize the actions of the other. You cannot launch a cyber attack on Sony for making something that trolls you at best, and perhaps also the other way around. There was nothing in the movie that was worthy of the attention it got, including the hacking. It was just another crappy Hollywood production. As

Amy Poehler and Tina Fey rightfully put it, yesterday at the Golden Globes Award ceremony,

"North Korea referred to 'The Interview' as absolutely intolerable and a wanton act of terror... even more amazing, not the worst review the movie got!"

The biggest problem with the world right now, and that has perhaps been that way forever, is that everybody gets offended pretty easily. Being an Indian by nationality, I totally find this relevant to everything happening in my country.

"Aamir Khan said nothing about the Muslims in his movie PK, why did he specifically pick out Hinduism based issues? He's a Muslim fascist pig!"

. And of course they launched the #BoycottPK protest campaign, and it worked just the way it was supposed to - create a mystery around it.
I remember a very apt quote from Stephen Fry at this moment. "It's now very common to hear people say, 'I'm rather very offended by that', as if that gives them certain rights. It's no more than a whine. It has no meaning, it has no purpose, and it has no reason to be respected as a phrase... I'm offended by that... Well, so fucking what?"
Coming back to my point, we need to accept that they will provoke. And your resolve will be tested. But the moment you lose control and use violence as a form of release, you're not too different than those who brutally murdered
Charb, Cabu, Honoré, Tignous and Wolinski (among others, whose death we equally condemn and mourn)
. They were brilliant cartoonists with ideas, wit and talent. They were murdered for their ideals. While I do not support their ideas (as Charlie Hebdo) wholeheartedly, I would cry and mourn and weep for the loss of human life, reason and talent. And if you have problems with my segregated stand on this, I don't give a single fuck!
Tell me if you're offended at that. Because if you are, you are not worthy of crying for Charlie Hebdo, for reasons I'd rather not repeat all over again.
As a random Muslim I'll apologise for this Paris incident if random white ppl will apologise for imperialism, drone attacks and Iggy Azalea.


— Aamer Rahman (@aamer_rahman) January 8, 2015
Unlike Charlie Hebdo, which is rather the 'classical' form of media, things seem to pick up speed pretty quickly on the internet. And after the initial 'stepping on gas' mode, things start to slide due to the gathered momentum and inertia. Soon we have people putting up blackened profile pictures and 'irrelevant offensive anti-Islamic cartoons' on their social media addresses. Suddenly right-wing politicians want to de-Islamicize their countries (read

Netherlands

and

India

). Suddenly if you do not conform to their worldview, you're a fucking terrorist!
The internet generation, that I am a part of, takes reverence and the sense of belonging too deep in their hearts. To show solidarity towards the acceptance of free speech in society, one need only allow the person in front of you to speak whatever they want to speak. The point is not to go around cussing and abusing and shouting offensives at the whole world just to prove that you promote free speech! No, I think you got it all wrong there, guys. Because if you go around hurling racial slurs all throughout the day, collaterally feeling a sense of contentment with your supposed defense of free speech, we end up having the kind of world where all our sense of appreciating sarcasm and irony is ruined and lost.
What a pathetic world would that be to live in. And I bet we would still have terrorists in that world, because in case you didn't get it, this is but exactly their kind of world.